Stand4
http://www.standburger.com/
24 E. 12th St
New York, NY 10003
NY BURGER WEEK MAY 13-20, 2012
To celebrate National Hamburger Month, Burger Conquest proudly brings you NY BURGER WEEK! NY Burger Week is happening May 13-20, 2012 to coincide withAmerican Craft Beer Week.
Burger Conquest has teamed up with Thrillist, the leading online Men's publication and urban guide to bring NY 7 awesome days of Burger & Craft Beer events. To purchase tickets and offers for NY Burger Week go to Thrillist Rewards. To see all events go to the official NY Burger Week website.
Hashtag = #NYBW
Tweet @BurgerWeek & @BurgerConquest
THE CONQUEST
Stand4, the brain child of Jonathan Morr, famous for his involvement in Bond St, Union Square's Republic, APT and more. The spacious location near NYU, serves all kinds of Burgers with beef from Pat LaFrieda and bun's from Amy's Bread. You can order them delivery, get them to go or dine in. Stand offers your choice of Beef, Turkey, Veggie, Chicken or Salmon burgers. They also have a decent selection of Sides, Salads, Soups and beverages from Alcohol to Craft Beer to Boozy Milkshakes. It's a great place for lunch, dinner and otherwise.  But I've told you that before, so let's talk …
NY BURGER WEEK EVENT
BOOZE-SPIKED SHAKES & OFF-MENU BURGERS AT STAND4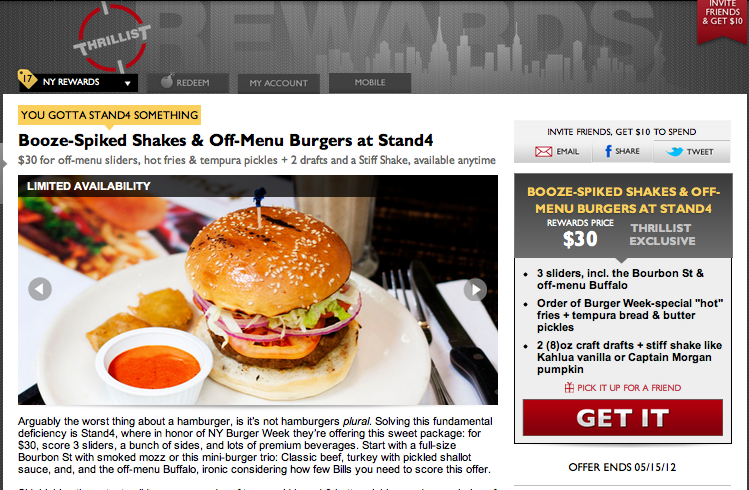 Stand4
Ticket link: http://bit.ly/Stand4NYBW
24 E 12th St
New York, NY 10003
Available all week
Price: $30
3 Sliders, incl. the Bourbon St & off-menu Buffalo
Order of Burger Week-special "Hot" Fries + Tempura Bread & Butter Pickles
2 craft drafts + stiff shake like Kahlua Vanilla or Captain Morgan Pumpkin
THE BURGER
The meal started off the house "Stand4 Red Ale." A cold, Malty & Copper Beer was just what this hot afternoon called for.
Diners who bought the Reward had a choice of sides but if you redeemed during New York Burger Week, you could upgrade to Stand4's Hot Fries. These are house cut French Fries topped with Jalepeño, Pepper Jack Cheese Fries & House Crushed Red Pepper. The Fries were fresh and crispy, just like they should be. The Cheese caused a little bit of clumping but that didn't take away from the taste. Might've come across better if the Cheese was shredded but there were good either way.
Choice is king and with the offer you have a choice of a trio of Sliders or a number of full sized Burgers. I didn't feel like messing around with mini Burgers as they are harder to cook properly. Instead, one of Stand4's specialty Burgers was going to fit the moment; The Bourbon Street Burger. It's covered with Mozzarella Cheese, Red Onion, Lettuce, Tomato and a house made Makers Mark Bourbon BBQ Sauce. It's all gently balanced between a nice sturdy yet soft Sesame Seed Roll. The Jalapeños provide a nice kick up to the Burger but the Bun and soft Cheese help to off set the heat. Don't be a wussy and shy away because the Jalapeños aren't really that hot. I loved the tangy and smoky sauce which really ads a cool layer of flavor to the sandwich. The best party? The thick and fresh Ground Beef Patty is well formed, delicious and never once do the other intense flavors of the toppings outshine the robust Beef flavor of the Meat. I have to say, it's a very well put together sando.
Not every great Burger maker can also make great Sides, Shakes and otherwise but at Stand4 you are guaranteed an all around great Burger meal.

8 out of 10 Ounces
Stand4 offers a number of fresh Gelato Shakes as well as spiked up "Stuff Shakes" created with various liquors.  The New York Burger Week Thrillist Reward came with your choice of the latter. I opted for the Rebel Reserve Bourbon Fresh Mint Shake. It was a big Shake, not too thick with a nice creamy texture. The Stiff Shake was a great end to a somewhat spicy meal, especially on a hot muggy day!

-Rev
THE BURGER COUNTQUEST
509 Burgers
May 16, 2012 – 2:51 pm
The Rev Meter for Social Community
"The Rev Meter" is a social community meter for assessing how optimized a bar or restaurant is with social networking. By taking what I consider to be the 10 most important social networks and creating a point system, I can accurately asses how well your business is using social networking as a tool. My goal here is to educate and assist great business to better effectively use these tools.
Stand4 scores a 5 on The Rev Meter.

SCORING:
4 points or less You've missed the 5 basics and are less than optimized
5 points You've covered the basics, which is better than most but far from optimized.
6 to 9 points You're doing better than most and on your way to becoming a well respected social community whiz.
10 points Congrats on a perfect score!