Amstel Light Presents the 2nd Annual NY Burger Crawl, NY Burger Week
-brought to you by Burger GPS with Beef from Burger Maker & Cheese from Jarlsberg– 

NY BURGER WEEK MAY 1-7, 2013
– 7 Days of delicious Burger events
To celebrate National Hamburger Month, Burger Conquest, The Food Film Festival & Burger GPS proudly bring you the 2nd Annual NY Burger Week, May 1-7, 2013.
Hashtag = #NYBW
Tweet @BurgerWeek & @BurgerConquest
From gourmet blends to off-menu specialities, to beer pairings, NY Burger Week will pay tribute to the world's greatest sandwich, the Hamburger. Each restaurateur and Chef will be preparing a unique event that pays tribute to the Burger in their own way.
THE CONQUEST
Who eats 10 Burgers in one day? You do or at least you did last year during the first ever ticketed Burger Crawl for NY Burger Week 2012. We had a blast roaming around New York's East Village sampling Burgers and washing them down with tasty suds and I knew I had to bring it back for the 2013 NY Burger Week. When the folks at Amstel Light, the official Beer of the Burger called and said they wanted to get involved in the Burger Week, it seemed like a perfect idea. Their Beer is made with only 4 ingredients; Water, Hops, Yeast & Malted Barley. It comes from a brewing tradition that dates back to 1870 in Amsterdam. Once Burger Maker came on board to supply the participating bars with their all natural, certified humane Angus beef along with delicious Cheese from Jarlsberg Cheese, we had ourselves a Burger Crawl to run.
NY BURGER WEEK EVENT
AMSTEL LIGHT, THE OFFICIAL BEER OF THE BURGER, PRESENTS
THE 2ND ANNUAL NY BURGER CRAWL
-brought to you by Burger GPS with Beef from Burger Maker & Cheese from Jarlsberg–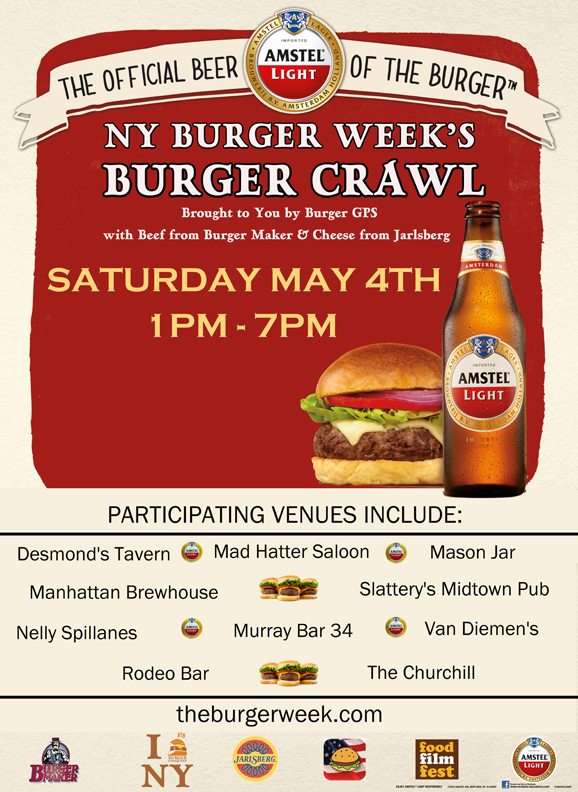 $70 for 10 beers + 5 gourmet sliders at 10 walkable bars on Sat, May 4th 

May 4, 2013
Murray Hill / Kips Bay Neighborhood, NYC
12:30 – 3:00 pm – Check In
1:00 – 7:00 pm – Burger Crawl
Price: $70.00
One (1) 8 oz Amstel Light at all locations
5 tickets redeemable for a Mini-burger / slider at your choice of locations

10% off their bill on additional spending

There's no better way to spend the Saturday of NY Burger Week than by exploring some of the best bars & restaurants of a neighborhood than a Burger Crawl! Join Burger GPS for a beer & burgerriffic crawl through Murray Hill & Kips Bay on this Cinco De Mayo weekend. You'll get an Amstel Light, the official beer of the Burger, at each of the 10 locations as well as your choice of burgers from 5 of them. The beef is all natural, certified humane Angus beef from Burger Maker with select burgers being topped by Jarlsberg Cheese. If that's not enough, get 10% off your bill at every location on any other beer, food or drinks you order.
PARTICIPATING BARS & RESTAURANTS: 
**Purchase your ticket to begin the crawl at either Manhattan Brewhouse or Slattery's Midtown Pub.**
Check in runs from 12:30 – 3:00 pm & the crawl goes from 1:00 – 7:00 pm.
THE BURGERS
Last year I Burger crawled with my Burger lovin buddy, the Mighty-Mike Fox from Edit Beach. I called upon him to join me again this year along with Ashley from Amstel Light in the crawl. Mike FYI is the man behind the Beer movie starring yours truly, "The Good Beer Seal."
Thank you to everyone who participated in the 2nd annual NY Burger Crawl. From the looks of it, everyone had a fun time visiting a bunch of bars in Murray Hill & Kips Bay while eating Burgers and washing them down with Amstel Light. With Amstel Light, Burger Maker & Jarlsberg, this event would have not been possible. We all owe them a very classy golf clap for their part in this. Specifically to Aja & Mike from Jarlsberg, thank you for running the check in booth at Manhattan Brewhouse. I'm obsessed with eating your Cheese while drinking Beer. To the 10 bar owners who signed on board to this crazy idea, I tip my hat and extend a firm handshake to thank you for allowing me to bring 200+ Burger fanatics into your places of business for a fun afternoon exploring your neighborhood. Burger Cheers to my crawl buds, Ashley, Mike & Jerry for the good times and good laughs.
You don't have to wait for the next NY Burger Crawl to show you where to get tasty Burgers, just download BURGER GPS! It's George Motz's Official State-by-State Guide to the most interesting burgers in the USA. Author / Filmmaker George Motz has eaten over 10,000 burgers in his life. Trust him and use this app to find your next great burger.
THE BURGER COUNTQUEST
623 Burgers
May 4, 2013 – 5:50 pm