That Burger at Idle Hands Bar & Billy Hurricane's
http://thatburger.com
http://idlehandsbar.com 
25 Avenue B
New York, NY 10009
NY BURGER WEEK MAY 1-7, 2013
– 7 Days of delicious Burger events
To celebrate National Hamburger Month, Burger Conquest, The Food Film Festival & Burger GPS proudly bring you the 2nd Annual NY Burger Week, May 1-7, 2013.
Hashtag = #NYBW
Tweet @BurgerWeek & @BurgerConquest
From gourmet blends to off-menu specialities, to beer pairings, NY Burger Week will pay tribute to the world's greatest sandwich, the Hamburger. Each restaurateur and Chef will be preparing a unique event that pays tribute to the Burger in their own way.
THE CONQUEST
It's been 602 days since Dan Petersen and That Burger took over the kitchen at Idle Hands Bar. In that time we've al eaten some tasty burgers paired with Iron Maiden, young adult novels, American Octoberfest Beers & even given them away for free for my birthday. We also helped Dan create, launch and sell his signature Bourbon Ketchup. It's been a fun, tasty, burgerific ride … and now it's over.
May 1, 201 was not only the first day of National Hamburger Month and NY Burger Week, it was also That Burger's final day at 25 Avenue B. Because neither I nor Idle Hands Bar do anything unless it's worth overdoing (my life motto), we sent Dan & That Burger off with a bang, a head-bang that is…
NY BURGER WEEK EVENT
GUNS N ROSES "APPETITE FOR DESTRUCTION" BURGER & BEER PAIRING DINNER AT IDLE HANDS BAR & THAT BURGER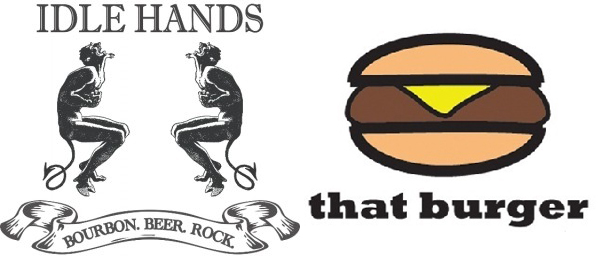 $30 for 4 Mini Burgers, Tots & 6 beers paired with "Appetite for Destruction"  
May 1, 2013
Idle Hands Bar
25 Avenue B, Downstairs
7:00 & 8:00 pm seatings
Price: $30.00
Ticket link: http://bit.ly/GNRNYBW

To celebrate the kick off of NY Burger Week  & National Hamburger Month, Idle Hands Bar has put together a VERY SPECIAL edition of their weekly Tasting event. Tonight we celebrate the Guns And Roses epic debut album "Appetite For Destruction" with a special burger and beer pairing.

We welcome representatives from 3 of our favorite South California breweries to do a perfect craft beer & burger pairing dinner with all 12 songs on the album!
THE BURGERS, BEERS & PAIRINGS
The way the event works is we hit play on "Appetite For Destruction" and as each track begins, you are served the paired food or beer. All Beers, Burgers & Tots were "perfectly" paired by yours truly.
Burger: Welcome to The (That) Burger
Description: Sauteed Onions, Sauteed Jalapeños, American Cheese
Track: "Welcome to the Jungle"
Pairing: The signature burger from That Burger with the kickoff track of the album.
Beer: Green Flash East Village Pils
Style: Pilsner
ABV: 5.3%
Description: What Fizzy Yellow Beer should be: full of life and flavor unlike domestic mass produced, mundane, lifeless, boring, bland, fizzy yellow, insipid swill that takes up space at pubs and restaurants.
Track:  "It's So Easy"
Pairing: Making beer this tasty should be so easy.
Beer: Ballast Point Sculpin
Style: IPA
ABV: 7%
Description: Bright with aromas of apricot, peach, mango and lemon. Its lighter body also brings out the crispness of the hop.
Track:  "Nightrain"
Pairing: The Sculpin fish has poisonous spikes on its fins that can give a strong sting. Ironically, the meat from a Sculpin is considered some of the most tasty, much like this IPA.
Burger: Out ta Eat Me
Description: Bacon, That Bourbon Ketchup, Blue Cheese
Track: "Out ta Get Me"
Pairing: If the bacon & blue cheese doesn't getcha, the bourbon ketchup will.

Beer: Stone Smoked Porter
Style: Porter
ABV: 5.9%
Description: A rich, dark and delicious porter with chocolate and coffee overtones accented by a subtle smokiness from just the right amount of peat smoked malt
Track:  "Mr. Brownstone"
Pairing: If you can't figure out this pairing, please excuse yourself, grab a Budweiser and visit the nearest McDonalds.
Burger: Paradise Burger
Description: Lettuce, Guacamole, Red Island Sauce, Cheddar Cheese
Track: "Paradise City"
Pairing: Red Island sauce is heavenly but it will take you down.

Beer: Greenflash Hop Head Red
Style: Amber Ale
ABV: 7%
Description: Resinous hop characteristics emerge from an enormous hopping with Columbus, Nugget and Amarillo overtaking the rich caramel malt base.
Track:  "My Michelle"
Pairing: Someday you'll find someone that you can call your own but till then ya better drink some Hop Head Red.
Beer: Stone Enjoy By 5/17/13 IPA
Style: Double IPA
ABV: 9.4%
Description: Stone has sent a clear message with the name of the beer itself that there is no better time than right now to enjoy this IPA.
Track:  "Think About You"
Pairing: You clearly have taken the time to think about enjoying craft beer, now drink it.
Burger: Sweet Burger o' Mine
Description: Sauteed Pineapple with Teriyaki Sauce, Honey Ham, Cheddar Cheese
Track: "Sweet Child o' Mine"
Pairing:  3 layers of sweetness with a savory cheddar will make you ours.

Beer: Ballast Point Wahoo Wheat with Thai Chili and Lime
Style: Witbier with spices & fruits
ABV: 4%
Description: Ballast Point Wahoo Wheat Beer is created using flaked unmalted wheat, oats and malted barley comprise the grain, a special yeast, mild hopping, adding a blend of curacao (bitter orange), sweet orange and coriander to the boil and in this case, thai chili and lime.
Track:  "You're Crazy"
Pairing: This is exactly what the other folks at Ballast Point said when the brewer said he wanted to make this beer.
Food: Bacon Spiced Tots
Track: "Anything Goes"
Pairing: As if tater tots were not already nature's carbohydrate version of heroine, when it's That Burger, anything goes, especially bacon spices!
Food: Bourbon Ketchup
Track: "Rocket Queen"
Pairing: Rocket Queen, you better turn me on tonight and if you don't at least you'll have That Burger's signature bourbon ketchup.
Thanks to everyone who attended, Dan from Stone, Ally from Greenflash & Billy from Ballast Point. Congrats to Dan & That Burger on a successful run at Idle Hands Bar and all the best of luck as we set you free into the Burgerverse.
THE BURGER COUNTQUEST
612 Burgers
May 1, 2013 – 8:23 pm