The Sunburnt Cow
http://www.thesunburntcow.com
137 Avenue C
New York, NY 10009
THE STORY
I spent my last semester of college at the University of New South Wales and the Australian National University. While there I learned the joy of a burger with "the lot." For those of you unfamiliar with Aussie Slang, that means "everything" and specifically for a burger, it means lettuce, tomato, fried onions, cheese, bacon, beet root, pineapple and a fried egg as toppings. To Australians, it's as normal as peanut butter and jelly, that's just how it comes.
Upon moving to NYC, there is a lack of Australian cuisine but you can definitely count on The Sunburnt Cow (as well as Bondi Road, owned by the same people) for authentic and tasty "Aussie Tucker." The Cow has one of the best burgers in NYC and is one of the most fun places to eat. Try the weekend "Endless Brunch"; your choice of entree (if you don't get the burger you suck) and unlimited drinks. Sit at the bar for a "counter meal" or ask to be sat on the back patio built to look like a cave, with the retracting roof. So when it came to the burger that I wanted to end my birthday beer crawl with, it was an easy choice mate!
THE BURGER
After a fun afternoon of pub crawling over micro brews at The Pony Bar, Radegast Biergarden and a Tour of the Brooklyn Brewery, (see more below) all I wanted to do was stuff my face with a burger with the lot. I ordered mine medium rare, no tomatoes or beet root. Say what you want about tradition, I don't like either and refuse to eat them. Chuck made the interesting suggestion of the BBQ ribs as an appetizer. Their sweet but smoky taste was different but honestly, didn't blow me away. The burger on the other hand…damn, a true winner and a new entry into the Burger Conquest top 5 in NYC. It's cooked just right and although they just serve on a regular old white bun, the combination of flavors is to die for. Combined with the fine all natural Aussie Lager, Toohey's New, you have an authentic taste combo that can't be beat. Why Adam got a chicken schnitzel, I have no idea. Silly Canadians.
Kudos to my wife Cara for the amazing close up shot, I love you a "lot".
Birthday Beer Crawl!!!
THE PONY BAR
http://www.theponybar.com/
637 10th Ave
New York, NY 10036-2904
This all American Craft beer bar is a dangerous 4 blocks from my apartment and features a constantly rotating beer menu. You can keep track of the beers you have tried with a personal tally sheet that the bar holds for you. All beers are priced at only $5 and their selection changes daily. For a beer enthusiast, this is a great place. On this visit I tried the 21st Amendment's Brewery "Hell or High Watermelon Wheat" and a "Hazed and Infused" from the Boulder Beer Co. To read the full reviews of the brews check out or sister site for One Barrel Bar.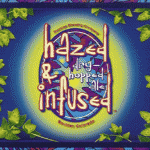 RADEGAST HALL & BIERGARDEN
http://www.radegasthall.com/
113 N 3rd St
Brooklyn, NY 11211-3923
Located in Williamsburg, Brooklyn, New York, the Radegast Hall & Biergarden is an authentic beer garden in the finest of German traditions. Serving mostly German biers, Radegast also offers some interesting ethnic European cuisine like Goulash, Schnitzel, Blintzes and Spatzle. Marc, Cara opted to sit on the patio and enjoy a tall cold one. I proudly chose my father's favorite beer and ordered a large mug of "DAB." (Read the full review at One Barrel Bar) and a grilled venison sausage. Although overcooked, the sausage was full flavored and tasty and helped to create a base for all the beer I was going to drink this day.

BROOKLYN BREWERY
http://www.brooklynbrewery.com/
79 N 11th St
Brooklyn, NY 11211-1913
Also located in Williamsburg, the Brooklyn Brewery is a short 8 blocks from Radegast and makes for a great 2 location bar crawl. Every hour on the hour during weekends, you can get the quick yet fun 15 minute tour of the brewery. In 1988, Steve Hindy and Tom Potter started this business in Brooklyn while brewing all the beers up state. They didn't actually brew in Brooklyn until 1996. For a full history, you'll have to check out their site. Brooklyn is one my absolute favorite breweries so I was very anxious for the tour. Be sure to try out the Sorachi Ace ale for a unique lemony refreshing beer experience.