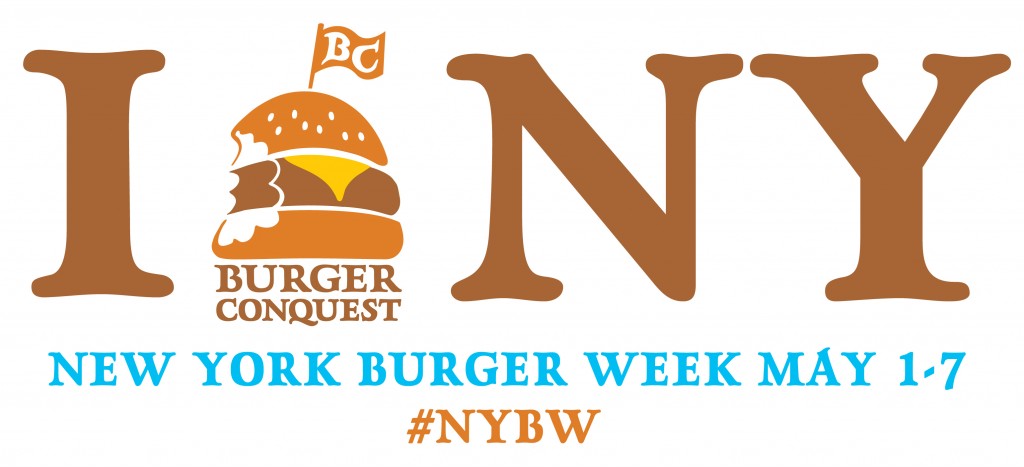 To celebrate National Hamburger Month, Burger Conquest, The Food Film Festival & Burger GPS proudly bring you the 2nd Annual NY Burger Week, May 1-7, 2013.
Hashtag = #NYBW
Tweet @BurgerWeek & @BurgerConquest
From gourmet blends to off-menu specialities, to beer pairings, NY Burger Week will pay tribute to the world's greatest sandwich, the Hamburger. Each restaurateur and Chef will be preparing a unique event that pays tribute to the Burger in their own way.

WEDNESDAY, MAY 1, 2013
GUNS N ROSES "APPETITE FOR DESTRUCTION" BURGER & BEER PAIRING DINNER AT IDLE HANDS BAR & THAT BURGER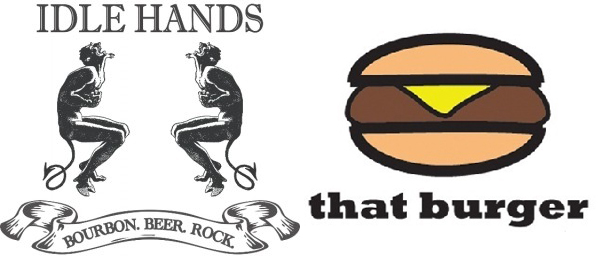 $30 for 4 Mini Burgers, Tots & 6 beers paired with "Appetite for Destruction"  

May 1, 2013
Idle Hands Bar
25 Avenue B, Downstairs
7:00 & 8:00 pm seatings
Price: $30.00
Ticket link: http://bit.ly/GNRNYBW

To celebrate the kick off of NY Burger Week  & National Hamburger Month, Idle Hands Bar has put together a VERY SPECIAL edition of their weekly Tasting event. Tonight we celebrate the Guns And Roses epic debut album "Appetite For Destruction" with a special burger and beer pairing.


We welcome representatives from 3 of our favorite South California breweries to do a perfect craft beer & burger pairing dinner with all 12 songs on the album! 
BURGER MENU:
1. Welcome to The (That) Burger:
– Sauteed Onions, Sauteed Jalapeños, American Cheese
2. Out to Eat Me:
– Bacon, That Bourbon Ketchup, Blue Cheese
3. Paradise Burger:
– Lettuce, Guacamole, Red Island Sauce, Cheddar Cheese
4. Sweet Burger 'o Mine:
– Sauteed Pineapple with Teriyaki Sauce, Honey Ham, Cheddar Cheese.
Beers & Pairings TBA
**Must be seated 15 minutes before event**

THURSDAY, MAY 2, 2013
BOURBON & BURGER PAIRING DINNER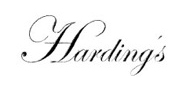 $35 for a private bourbon cocktail course, bourbon tasting,
house-made, hand-ground Burger & a paired bourbon cocktail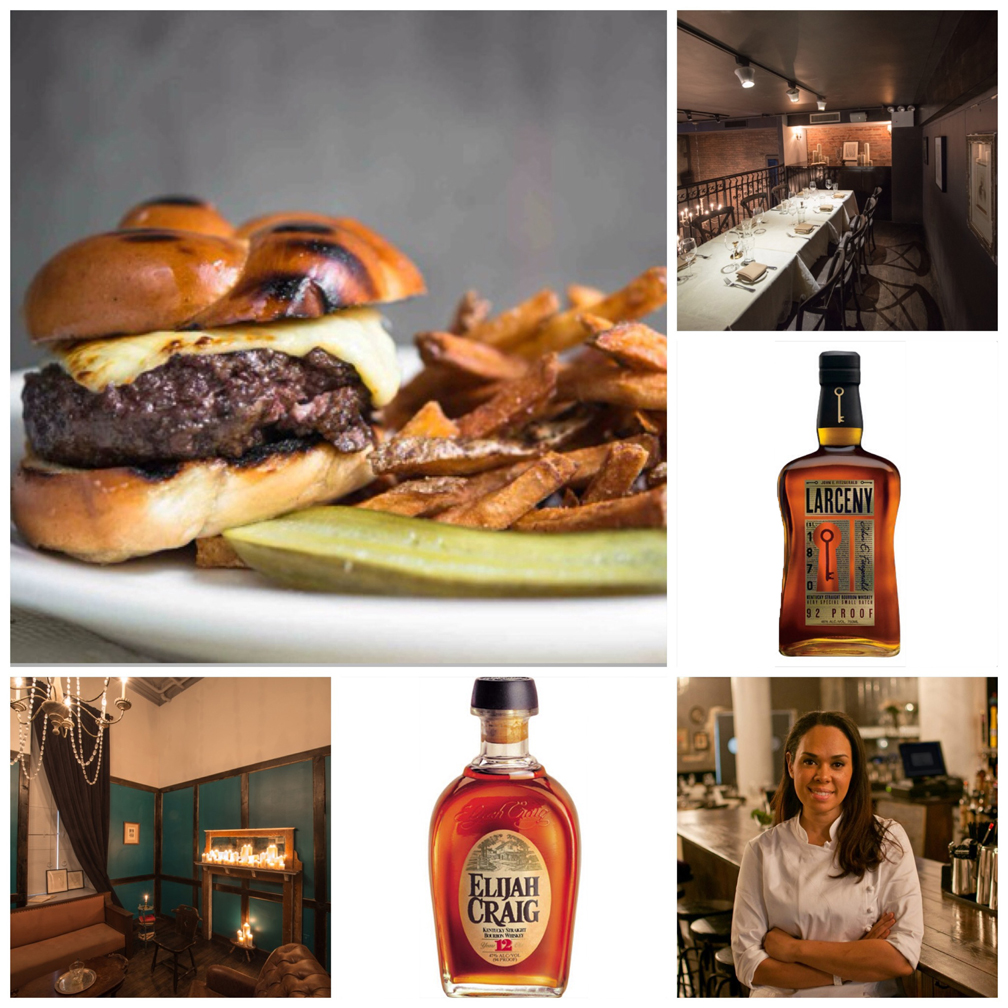 Brought to you by The Whiskey Roundtable


May 2, 2013
Harding's NYC
32 E 21st St
New York, NY 10010
6:00, 7:00 & 7:45 pm seatings

Price: $35.00
Ticket Link: http://bit.ly/HardNYBW 

Cocktail making course

Private bourbon tasting and food pairing

Kitchen walk-thru 

Private dinner with Burger and paired bourbon cocktail

 
This one is a doozy! First you'll be greeted by head bartender Trevor Schneider who will teach you how to make a bourbon smash with Larceny bourbon. Yes, you'll be drinking one of them while you ask any bourbon questions you have to a representative from the Larceny distillery.
Then you'll move into The Den, Harding's private whisky room, where you'll experience an intimate tasting lesson with Elijah Craigh bourbon. You'll be served a paired dish of Chef Ariel Fox's 
crispy Yukon potato skins with shaved blue cheese.
From there you'll take a walk into Harding's kitchen where Chef Ariel Fox will explain how they make their burger with a custom blend of 80/20 lean to fat ratio mix of chuck and skirt beef that is then mixed with a 30% ratio of short rib.
The small group of you will then be seated at a community table on Harding's VIP balcony dining table where you'll devour said succulent Burger along with some skin-on rosemary frech fries with a paired bourbon cocktail.

Due to the intensity of this event, there is a very limited amount of tickets. Sleep on this one and you'll be sorry.
**Must be seated 15 minutes before event**
About The Whiskey Roundtable 
The Whiskey Roundtable is a collective that will present topics about whiskey in a troubadour fashion.

THURSDAY, MAY 2, 2013
OFF-MENU BURGERS & PUTTS BEER DINNER
–CO-HOSTED BY BOOZY BURBS

$35 for 3 Off-Menu Burgers, Fries, 2 Craft Beers & Mini Golf
May 2, 2013
Hudson 303 Sport Cafe
Tappan Golf Center
116 Route 303, Tappan, NY
7:30pm
Price: $35.00
Ticket link: http://bit.ly/HudNYBW 
Three (3) 1/3 LB Off-Menu Burgers
Choice of 2 full-sized Drafts from Hudson 303's selection of 24 taps
1 order of Fresh Hand-Cut French Fries
1 round of miniature golf
To celebrate NY Burger Week  & National Hamburger Month, Hudson 303 Sport Cafe's chef has put together a SPECIAL menu of burgers, served with beer and fries. After the meal, attendees will have the opportunity to play a round on their award winning 18 hole course.
BURGER / FOOD MENU:
1. Hudson Signature Burger
– 1/3 pound of Hudson beef topped with a fried egg, homemade chili & cheddar cheese. Served on an onion roll.
2. Spicy Korean Pork Belly Burger (created exclusively for event)
– 1/3 pound of Hudson beef topped with marinated & sauteed pork loin, kimchi and spicy pepper paste. Served on a brioche roll.
3. Stuffed Burger (created exclusively for event)
– 1/3 pound of Hudson beef stuffed with smoked sausage, jalapeno and pepper jack topped with carmelized onions and pepper jack served with a chipotle aioli. Served on a potato roll.
4. Fresh Hand-Cut Fries 
BEER MENU 
Any 2 full sized (either 16oz or 12oz depending on beer ABV) tap beers. Hudson 303 has 24 rotating taps. View Current List.
GOLF
A round on the outdoor 18 hole miniature golf course at Tappan Golf Center (Hudson 303 Sport Cafe is inside the Tappan Golf Center, which also houses the miniature golf course).
**Must be seated 15 minutes before event**

FRIDAY, MAY 3, 2013
GET REAL PRESENTS THE "3B's"
– Beer, Bowling & Burger Festival –
featuring beer from 24 different craft breweries
May 3, 2013
Bowlmor Times Square
222 W. 44th St
New York, NY 10036
6 – 9 pm
TWO TICKET OPTIONS

Price: $18
Ticket link: http://bit.ly/3BSNYBW
Admission to event
Choice of 8 Craft Beers from 24 different Breweries
Choice of 1 crafty Mini Burger featuring all natural, certified humane Angus beef from Burger Maker
Jarlsberg Cheese sampling and beer pairing
Gourmet Pickles & Chips from McCLure's Pickles

Voucher for 1 game of bowling

Prizes for best bowling shirt
Price: $38.00
Ticket link: http://bit.ly/3BSNYBW
Admission to event
Craft Beer from 24 different breweries
3 crafty Mini Burgers featuring all natural certified humane Angus Beef from Burger Maker
Jarlsberg Cheese sampling and Beer pairing
Gourmet Pickles & Chips from McClure's Pickles
Voucher for 1 game of bowling
Prizes for best bowling shirt
When Get Real Presents throws a festival there's no playing games, unless it's bowling! This one promises to be a rager! We've invited 24 of our favorite American craft breweries to pour some of their finest and freshest spring seasonals which you can use to wash down all the delicious food. We'll have Pickles and Chips from our good friends at McClure's Pickles  We also welcome in Jarlsberg Cheese for a sampling of their tasty Cheeses including a specialty cheese & beer pairing. But seeing as this is NY Burger Week, we have lined up a special menu of mini-burgers made with Burger Maker's certified humane, no antibiotics, hormones or steroids, all natural Angus beef. You know, THE GOOD STUFF.

You know you can trust Get Real to bring you the best food and beer events!
BURGER MENU
Baby Boomer Burger
-Avocado, Cheddar Cheese, Lettuce, Tomato and Boomer Esiason's Secret Sauce (made with 9 Ingredients and 4 Condiments)
The Rev's Holy Hot & Hog Burger
-Honey Bacon, Sriracha & Jarslberg Cheese
That's Nacho Burger
-Queso Sauce & Crushed Blue Corn Chips
CHEESE TASTING
FEATURED BREWERIES
PRIZES FOR BEST BOWLING SHIRT 
Grand Prize: 2 Lane Open bar party for 10 at Bowlmor, Bronx Brewery dickeys work shirt, Sierra Nevada Brewing Wall Mirror & Jarslberg Cheese Kit:  Tote of Jarlsberg and Norwegian cheeses plus a cheese service board.
Runner Up: $100 Bowlmor gift card& a Bronx Brewery Hat
3rd Prize: $25 Bowlmor gift card
*This is a 21 and over event
SATURDAY, MAY 4, 2013
AMSTEL LIGHT, THE OFFICIAL BEER OF THE BURGER, PRESENTS THE 2ND ANNUAL NY BURGER CRAWL
-brought to you by Burger GPS with Beef from Burger Maker & Cheese from Jarlsberg–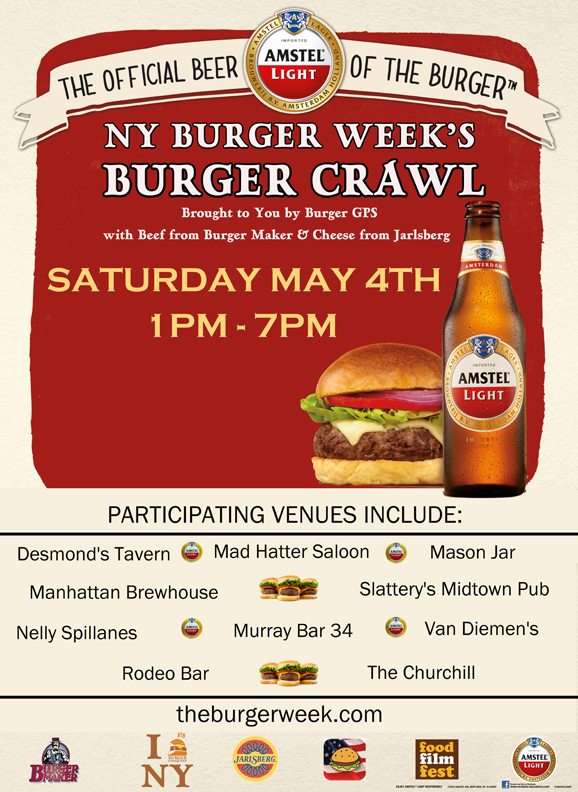 $70 for 10 beers + 5 gourmet sliders at 10 walkable bars on Sat, May 4th 

May 4, 2013
Murray Hill / Kips Bay Neighborhood, NYC
12:30 – 3:00 pm – Check In
1:00 – 7:00 pm – Burger Crawl
Price: $70.00
One (1) 8 oz Amstel Light at all locations
5 tickets redeemable for a mini-burger / slider at your choice of locations

10% off their bill on additional spending

There's no better way to spend the Saturday of NY Burger Week than by exploring some of the best bars & restaurants of a neighborhood than a Burger Crawl! Join Burger GPS for a beer & burgerriffic crawl through Murray Hill & Kips Bay on this Cinco De Mayo weekend. You'll get an Amstel Light, the official beer of the Burger, at each of the 10 locations as well as your choice of burgers from 5 of them. The beef is all natural, certified humane Angus beef from Burger Maker with select burgers being topped by Jarlsberg Cheese. If that's not enough, get 10% off your bill at every location on any other beer, food or drinks you order.
PARTICIPATING BARS & RESTAURANTS: 
**Purchase your ticket to begin the crawl at either Manhattan Brewhouse or Slattery's Midtown Pub.**
Check in runs from 12:30 – 3:00 pm & the crawl goes from 1:00 – 7:00 pm.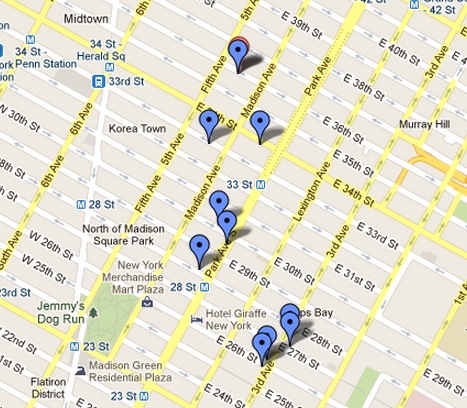 SUNDAY, MAY 5, 2013
THE 67 BURGER EXCLUSIVE OFF-MENU BURGER BASH

$45 for 4 Off-Menu Burgers, Beer Tasting & French Fries for 2 people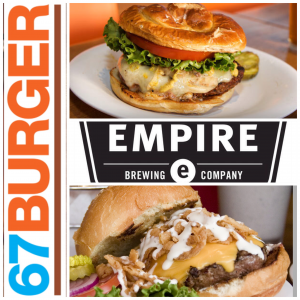 May 5, 2013
67 Burger
234 Flatbush Avenue
Brooklyn, NY 11217
12 – 2 pm
Price: $45.00 for 2 people
Ticket link: http://bit.ly/67NYBW

4 different Off-Menu Burger Creations from Chef Jeff Maslanka

2 draft beers from Empire Brewing Company with tasting from brewery rep

1 order of French Fries

**Each ticket is good for 2 people**
The Off-Menu Burger Bash is NY Burger Week's signature event and where it all started. We're extremely excited to be bringing this delicious event to 67 Burger in Park Slope. Chef Jeff promises to whip out some doosey Burgers including his famous "Pastrami Burger." Grab a bud & join us for what will be an awesome Burger party.
Wash it all down with a couple of delicious, Brooklyn made Beers from Empire Brewing Company. A representative from the brewery will be on hand to take you through a Beer tasting and answer any questions you have.
Vote for your favorite Burger at the end of the meal and whichever Burger has the most votes will become the official 67 Burger for National Hamburger Month!!
BURGER MENU
The Down Under Aussie Burger
– Fire roasted and Pickled Beet Root, Pineapple Rings charred on an open fire, Malaysian spicy Pork Jerky, French Fries & an sunny side up Egg
Chef Jeff says: "It's a hot mess!
The Chili Relleno Burger
– Melty Jack Cheese, grilled Tomato Red Sauce, Poblano Chili dipped in a light Egg Batter and fried to a crisp!
Chef Jeff says: "Boom."
THE Pastrami Burger
– Homemade Pastrami Spice crusted Burger with Sauerkraut & Deli Mustard on a Pretzel Bun
Chef Jeff says: "!!!"
Hippy Forager Burger
– Beef Patty topped with a melange of wild Mushrooms, Spring Onions, Truffled Tomato Sauce & Smoked Gouda Cheese Sauce
Chef Jeff says: "Finders Keepers!"
**Must be seated by 11:50am**
MONDAY, MAY 6, 2013
Win Tickets to a Private Party With Burger Land Travel Channel Host and Hamburger Expert George Motz
Watch + Eat!
Buy a ticket to ANY 2013 NY Burger Week event and you will be entered to win a pair of tickets a private Burger & Beer Party on May 6th in Brooklyn. Join Travel Channel Host and Hamburger Expert George Motz to celebrate the launch of his brand new TV show, Burger Land.
Presented by Burger GPS – the iPhone app that finds you a great burger anywhere in the USA.
Monday, May 6th, 2013
6:00 – 9:00 pm
Location TBA – Brooklyn, NY
You must be 21+ years old to enter the venue.
Your invite includes entry to private party, burgers and beer.
Made possible with generous support from The Food Film Festival and Burger Conquest.
*Winners will be chosen at random on Sunday, May 5, 2013. If you win, you will be notified by email and must reply within 24 hours to receive your passes.

TUESDAY, MAY 7, 2013
GET REAL PRESENTS THE BEER BURGER CONQUEST DINNER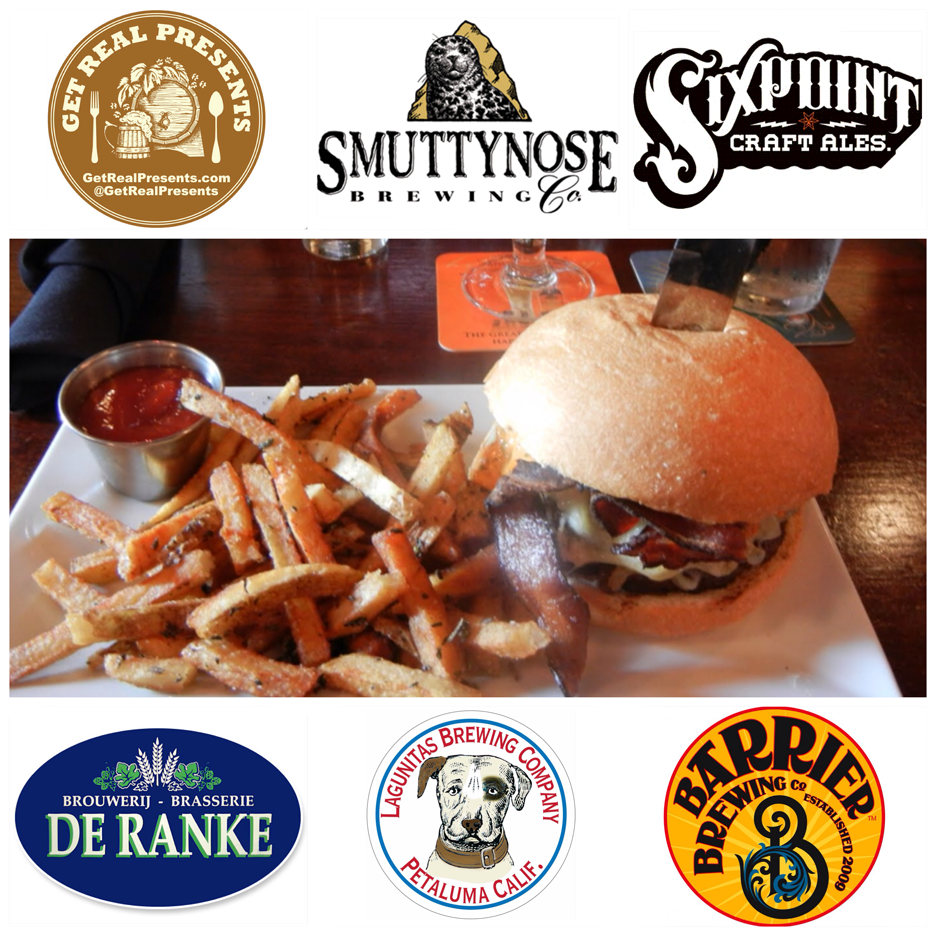 $45 for 5 gourmet Burgers from 5 animals
paried with 5 craft beers from 5 breweries

May 7, 2013
Alewife
5-14 51st Avenue
Long Island City, NY
7:00pm
Price: $45.00
Ticket link: http://bit.ly/AWNYBW 
All good things must come to an end but the finale of NY Burger Week will leave you begging for more. On Tuesday, May 7, NY Burger Week culminates at the Alewife in Long Island City, Queens, for a world-class Beer and Burger pairing dinner brought to you by Get Real Presents. Chefs Travis and Gregorio have put together a menu featuring 5 different gastronomic Burger expeditions from 5 different meats—each of expertly paired with a top-rated craft Beer by the Alewife's Beer sommelier, Patrick Donagher.
BURGER MENU
1. "Get Him to the Greek"
– Burger Ground Lamb, Tzatziki,Hummus, Red Onions
2. Jaegershnitzel Burger
– Ground Veal, Red Cabbage, Hunter Sauce
3.Twisted Sister Burger aka Dee Snider Burger
– Ground Bison, Peanut Butter and Jelly, Bacon, Siracha
4. Quack Attack
– Ground Duck. Duck Cracklin, Foie Gras, Pomegranate Hoison
5. Luther Burger aka Diabetic Coma
– Ground Beef, Cheddar Cheese sandwiched between Glazed Doughnut
Pairings TBA
**Must be seated 15 minutes before event**
Must be 21+ to consume alcohol.
Sign up for the email newsletter, check out the Burger Week website and follow @BurgerConquest on Twitter for more details & event announcements.

About NY Burger Week
NY Burger Week is an annual delicious celebration of all things Burger in New York. It is an extension of the burger blog, BurgerConquest.com written by sales marketing strategist, David "Rev" Ciancio. Rev has written about more than 600 Burgers, been featured on 9 different TV shows and named an "Expert Burger Taster" by The Learning Channel.
About the Food Film Festival


The Food Film Festival sprang from the imagination of Festival Director George Motz, the documentary filmmaker behind the award-winning Hamburger America film and book, along with co-creator Harry Hawk, formerly of Schnack and Water Taxi Beach. Through documentaries, features and short films, the Festival showcases the best, and the most memorable, of the world's favorite foods. Along with a heaping helping of mouth-watering films, Motz, Hawk and company serve up the food that guests are watching on the screen for a multi-sensory, full-bodied experience.
About Burger GPS
BURGER GPS / Hamburger America



George Motz's Official State-by-State Guide to the most interesting burgers in the USA. Author / Filmmaker George Motz has eaten over 10,000 burgers in his life. Trust him and use this app to find your next great burger.