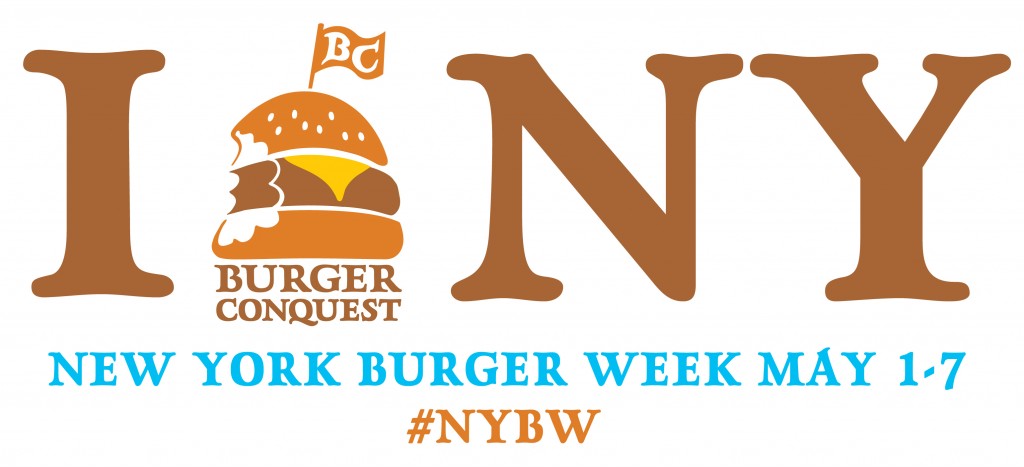 BURGER CONQUEST TO HOST 2ND ANNUAL NY BURGER WEEK,
MAY 1-7, 2013
To celebrate National Hamburger Month, Burger Conquest, The Food Film Festival & Burger GPS proudly bring you the 2nd Annual NY Burger Week, May 1-7, 2013.
Week long celebration will showcase some of the most innovative and trendsetting Burger makers in the world's biggest Burger city.
Burger Conquest announces 2nd annual NY Burger Week from May 1-7, 2013. From gourmet blends to off-menu specialities, to beer pairings, NY Burger Week will pay tribute to the world's greatest sandwich, the Hamburger. Each restaurateur and Chef will be preparing a unique event that pays tribute to the Burger in their own way.
NY Burger Week kicks off on the evening of May 1 at Idle Hands Bar with That Burger in the East Village. The menu will feature Burgers and beers "expertly paired" by NY Burger Week founder, Rev Ciancio, with each track on Guns N Roses debut album Appetite for Destruction. Attendees will enjoy craft beers from Ballast Point, Green Flash & Stone Brewing Companies as well as a selection of off-menu mini-Burgers & Tater Tots along with a special dipping sauce from the mind of Dan Petersen, the creator and Chef for That Burger . The Food and drink menu will be paired with a corresponding track from the rock album that set the world on fire. More details and tickets are available here: http://bit.ly/GNRNYBW
The flagship event of NY Burger Week, the Off-Menu Burger Bash, will be hosted by 67 Burger in Park Slope, Brooklyn on Sunday, May 5 at 12 p.m. Chef Jeffrey Maslanka will courageously prepare 4 of the most intense Burgers in his repertoire for an event your taste buds won't want to miss. More details and tickets are available here: http://bit.ly/67NYBW
All good things must come to an end but the finale of NY Burger Week will leave you begging for more. On Tuesday, May 7, NY Burger Week culminates at the Alewife in Long Island City, Queens, for a world-class Beer and Burger pairing dinner brought to you by Get Real Presents. Chefs Travis and Gregorio have put together a menu featuring 5 different gastronomic Burger expeditions from 5 different meats—each of expertly paired with a top-rated craft Beer by the Alewife's Beer sommelier, Patrick Donagher. More details and tickets are available here: http://bit.ly/AWNYBW
Must be 21+ to consume alcohol.
Four more events will be announced shortly as well as a month-long National Hamburger Month promotion that involves some of the best Burger restaurants in NYC. Interested restaurants, Chefs and sponsors interested in participating can find out how to get involved here.
Sign up for the email newsletter, check out the Burger Week website and follow @BurgerConquest on Twitter for more details & event announcements.
About NY Burger Week
NY Burger Week is an annual delicious celebration of all things Burger in New York. It is an extension of the burger blog, BurgerConquest.com written by sales marketing strategist, David "Rev" Ciancio. Rev has written about more than 600 Burgers, been featured on 9 different TV shows and named an "Expert Burger Taster" by The Learning Channel.
About the Food Film Festival
The Food Film Festival sprang from the imagination of Festival Director George Motz, the documentary filmmaker behind the award-winning Hamburger America film and book, along with co-creator Harry Hawk, formerly of Schnack and Water Taxi Beach. Through documentaries, features and short films, the Festival showcases the best, and the most memorable, of the world's favorite foods. Along with a heaping helping of mouth-watering films, Motz, Hawk and company serve up the food that guests are watching on the screen for a multi-sensory, full-bodied experience.
About Burger GPS
BURGER GPS / Hamburger America
George Motz's Official State-by-State Guide to the most interesting burgers in the USA. Author / Filmmaker George Motz has eaten over 10,000 burgers in his life. Trust him and use this app to find your next great burger.