THE CHICAGO WINTER GOOD BEER PASSPORT
– 1 craft beer & snack at each participating location for the whole winter –
January 15th through March 13th, 2015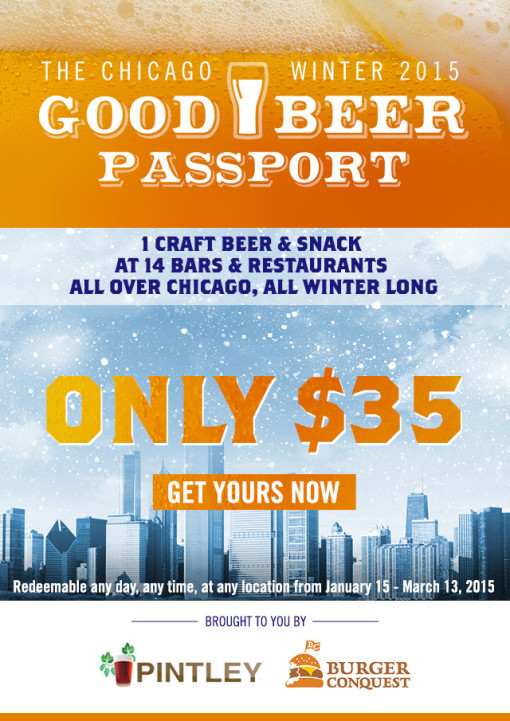 We've teamed up with Pintley to proudly present The Chicago Winter Good Beer Passport!By purchasing a passport, you'll get one full craft beer and snack (of bar's choosing) at every one of the 14 participating locations. You can use them any day, any time from January 15th through March 13th, 2015.So grab your friends, brave the cold, and go on an adventure through the world of Chicago's Craft Beer this winter!
How it Works:
Buy a ticket for the location where you would like to pick up your passport.
Pick up your passport at the location you chose any day from January 15th through February 14th, 2015.
Bring your passport to each of the 14 participating locations any day from January 15th through March 13th, 2015 and choose one full pour draft or bottled beer at each location.
Valid only once per location.
Please remember to tip your bartenders as gratuity is not included.
Participating Locations:
Chop Shop
Division Ale House
High Noon Saloon
Jaks Tap
Jerry's Andersonville
Jerry's Wickerpark
Jet's Public House
Jimmy Greens
Ph.D Pub
The Beer Bistro – North
The Garage Chicago
The Otherside Bar
Windy City Inn
World of Beer
And more to be announced!
Bars, restaurants & breweries interested in participating in the passport, please reach out to Rachel before January 7th at events@pintley.com.
Fine Print:
*Must be 21 years or older with valid ID
*1 passport per person
*You may buy 1 additional as a gift
*Misplaced passports can not be replaced
*Bars will choose which beers are available, many will have price limits of beers under $6 or $7
*Good Beer Passport is not valid at Pintley sponsored events
About Pintley:
Pintley is a craft beer community connecting drinkers, brewers, and bars. Drinkers use Pintley to discover great beer. Pintley learns from your tastes, suggests beers you'll love, and invites you to free local beer tastings where you can try them. Brewers and bars use Pintley to grow sales. Pintley's craft beer events help bar managers fill their bars on slow nights, while helping brewery reps gain and keep draft lines.
About Good Passports:
Good Passports work with bars, restaurants, breweries and alcohol retailers to drive in customers by creating limited time promotions with multiple venues. Customers acquire a passport that guides them around a city where they get to sample various drinks at a number of different locations. By purchasing a passport, customers also receive a periodic email newsletter alerting them of cool and exclusive events from the participating locations.